" Listening to you is our priority,
your loyalty is our pride. "
BeDia Genomics has been partnering with leading companies in their field for more than five years to provide laboratories with access to technological innovation and the evolution of in vitro diagnostic demands. With its ISO 13485 certification BeDia Genomics accompanies you with our expertise, our professionalism and our competence in your accreditation process with products certified and compliant with the requirements of European Directive 98/79/EC.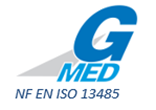 OUR PRECISION, OUR EXPERTISE
We offer a local service, specialized in molecular biology for medical diagnosis. Among the techniques used, we offer:
– Next Generation Sequencing (NGS)
– Quantitative PCR;
Our HLA Typing Interpretation Software satisfies the challenges of users in the handling of the solution, combining expertise and ergonomics.
Traceability of results, regular updating of the IMGT data base, network data sharing, export of files in several formats, connection to central IT, BeDia Genomics offers automation of library preparations for Next Generation Sequencing (NGS).
Our Commitments
Précision Expertise

Proximité

Traçabilité

Logiciels

This is custom heading element